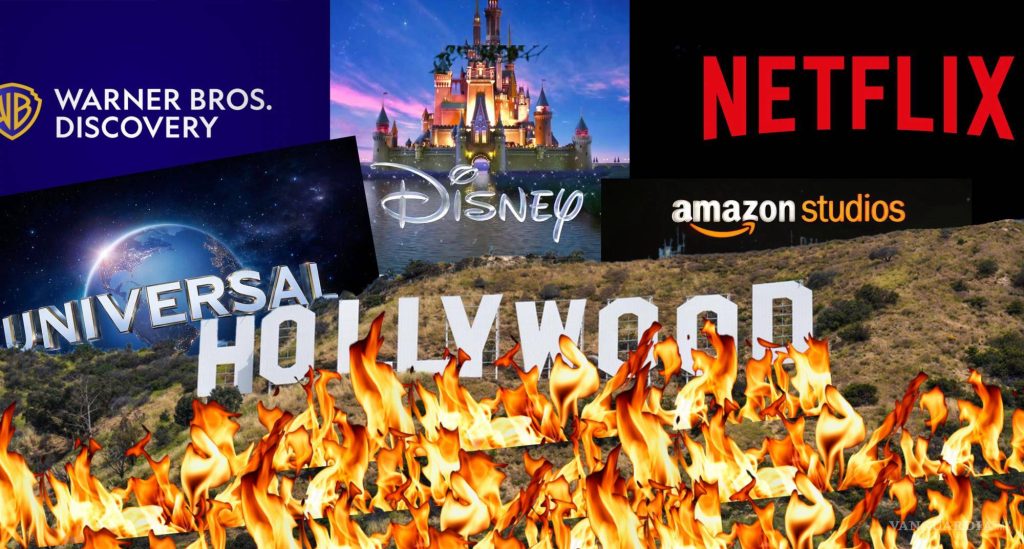 200,000 Workers, actors, and writers are Striking in the Movie Industry against Big Studios, for more money and against Artificial Intelligence (AI)
LOS ANGELES, July 13 (The Daily Socialist with informational material from Reuters, Washington Post, Vox, Intribe, and other agencies)
The Movie industry is shaken by the wake of a mass of writers and actors marching together for better wages, secure employment, and protection against AI. This national strike encompassed more than 200,000 workers that could quickly gain the support of another 100,000 linked to the industry if the Unions representing the strikers were willing to fight a bitter struggle, including defying the existing antilabor legislation. Workers should also be prepared against scabs and the action of the police.

Hollywood actors will go on strike at midnight on Thursday after talks with studios broke down, joining film and television writers who have been on picket lines since May and deepening the disruption of scores of shows and movies.
Studios now face their first dual work stoppage in 63 years, forcing them to halt many productions across the United States and abroad. The twin strikes will add to the economic damage from the writers' walkout, delivering another blow to an industry struggling with changes to its business.
Both SAG-AFTRA – Hollywood's largest union, representing 160,000 film and television actors – and the Writers Guild of America (WGA), representing more than 20,000, are demanding increases in base pay and residuals in the streaming TV era plus assurances that their work will not be replaced by artificial intelligence (AI).
AI is becoming a big issue in the movie industry, where producers and big companies work frantically to adapt it to make movies, drastically reducing the number of humans. Does it sound like science fiction? Not anymore.
At a Thursday press conference, the actors' union announced that the strike would begin at midnight after its national board unanimously authorized the walkout.
Actors and writers are seeking increases in base pay and a more significant share of earnings from shows appearing on streaming services. Both also seek protections against studios using artificial intelligence (AI) to replace their jobs. The writers say that their pay has fallen over the past decade; they're seeking a minimum commitment of six writers and 13 weeks of work for each show, plus a 5% increase in base pay and additional compensation for hit shows on streaming, which they say studios rejected in negotiations. Further demands by actors include payment for auditions that they record themselves.
For writers, there are concerns that AI could generate scripts without them. For actors, there are concerns that studios could use AI to replicate previous performances. The Directors Guild of America, which agreed to a new contract with the studios in June, got the companies to agree AI would not replace them.
A strike carries profound economic implications. The last time there was a writers' strike, in 2007-2008, work stopped for 100 days and cost $2.1 billion to California's economy alone. According to the WGA's proposals chart, the guild's proposals would gain the writers about $429 million annually. The AMPTP's counterproposal is an annual increase of about $86 million.
Meanwhile, according to the WGA's calculations, industry profits have ballooned from $5 billion in 2000 to $28-$30 billion from 2017-2021. Spending on original streaming content grew from $5 billion in 2019 to $19 billion in 2023 — the lion's share of it by Netflix, which reported $6 billion in operating profits in 2021 and $5.6 billion in 2022.
We extend all our solidarity to the strikers in both unions, and we warn workers that the best way to secure a victory is to bring the entire Hollywood reign to a standstill. Solidarity should be demanded from all other workers' unions in town, including UPS) which is about to have its own strike), Amazon (where workers are fighting to organize unions and confront the task of preparing for their first contract), and set up picket lines to stop ALL productions and prepare for the blackmail, the intended cooptation operations, and the divisions bosses in Hollywood will attempt.
Workers should organize inter-district coordinating committees to secure the strike in Hollywood and New York, San Francisco, Las Vegas, Philadelphia, New Orleans, Chicago, Boston, Atlanta, and every other location or studio in the country. Learn from the labor movement's past, send pickets to all corners of the country, defy the law, and establish secondary pickets and boycotts. For example, Netflix has partnerships and partly owns or works with other multimillion businesses.
One of the best strategic partnerships Netflix has done is aligning itself with innovative TV companies like Sony, LG, and Samsung so that they can easily reach emerging markets and make Netflix accessible to its existing user base. This is why Netflix comes preinstalled on these TV models, especially the newer ones.
Sony, LG, and Samsung are also working with Netflix to revolutionize how people watch TV by creating 4K smart TVs. Meanwhile, Netflix "delivers high-quality 4K content" that can be protected on those TVs.
Bring the pickets and the strike to the doorsteps of all those companies and more! No scabs should cross the picket lines! Form committees to collect funds, appeal for solidarity strikes in other industries and defend themselves against police harassment of the pickets. Striking unions should demand full solidarity from the AFL-CIO and every Labor Council in the country.